It is important to acknowledge the current lockdown situation however this article is looking towards the future when we will be free to explore and enjoy what the amazing city of Marseille has to offer!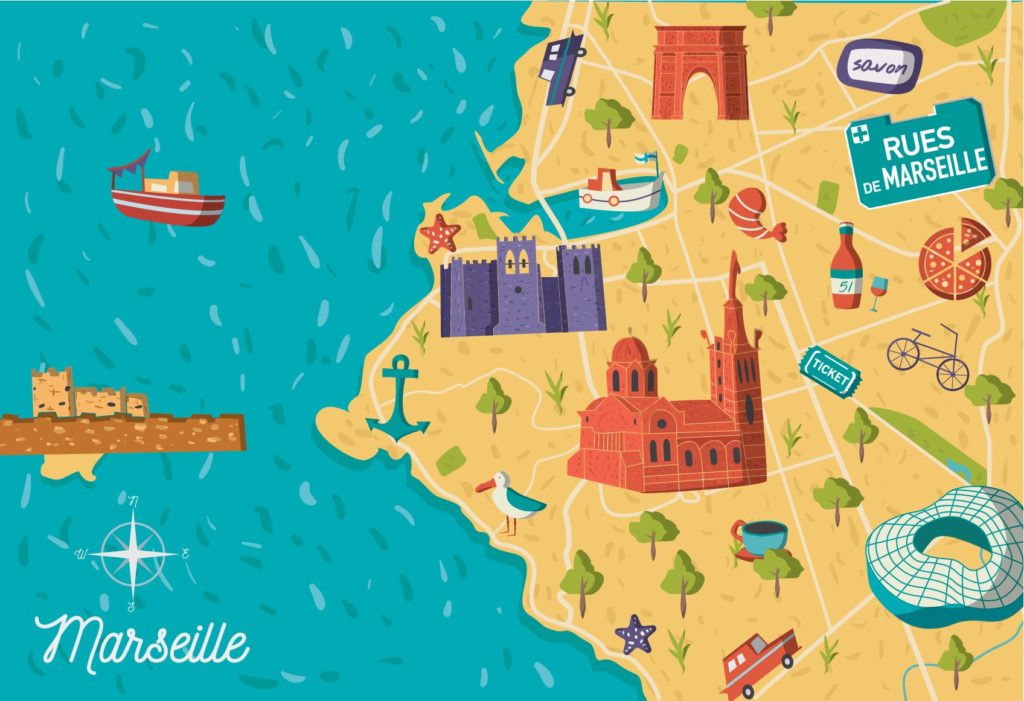 There is no exact translation of the word cheap into French (this says a lot about the sophistication and glamour of the French language) so, let's say things that are 'pas cher'.
It feels as if in most cities, particularly London, you walk out the door and you immediately are required to spend a considerable amount of money to enjoy yourself. Living in Marseille, especially when the sun is out (which is approximately 300 days per year) there are a lot more things to do that are either completely free or 'pas cher'.  
Here is NouNouLangues top 10…
1.The Beach
Marseille has so many different beaches close to the city centre.  From pebbled to sandy to jagged coves, there is something for everyone. If you don't mind jaggedy, rocky surfaces, the various coves and rocky fronts in Malmousque are a great place for a quick evening dip. There is also a small pebble beach in Malmousque more suitable for families. Prado and Prophète offer sandy beaches more catered for children and have a lot more space. Catalan is the closest beach to the city centre however this means it is often extremely busy and the water is not as clean. However if you are lucky enough to have some free time during the week it would be a great opportunity to benefit from a calmer period away from tourists and locals!  
2. Walk up to Notre Dame de la Garde
There are various routes to walk up to this point, they are all fairly steep, but it is definitely worth it once you are at the top with a 360° view of Marseille. On the way down, take the route through Vauban and treat yourself to a refreshing ice lolly from emkipop.
click here for the exact location of the emkipop café
3. Evening Boat trip to the Îles du Frioul
Top tip! After 19h in the summer months you can purchase a return ticket for a bargain price of just 5,50 €. Take a picnic with you as the restaurants on the island are not great value. Walk along the island and find a nice spot to enjoy your evening. Boats run back to the port until midnight.
click here for details of the reduced rate
4. Museums
One for a rare rainy day in Marseille. All museums are free on the first Sunday of the month. A favourite of NouNouLangues is the recently refurbished history museum in the centre bourse. Learn all about how Marseille has changed over time.
5. Hike in the Calanques
The Calanque national park is spectacular with rocky mountains overlooking the bright blue sea stretching all the way to Cassis. Details on various walks would require a whole different article but click on the link below for a few ideas. You can get a bus to Luminy or Callelongue and take a picnic for a great day out.
Click here for some popular trails
6. Parc Borely
This Parc is an excellent green space just next to the beach. It is great for families and for a relaxing stroll away from the hustle and bustle of the city.
7. Noailles
The market in Noailles and the various small shops are really worth a visit. They offer products from various North African countries ranging from Moroccan décor to herbs and spices to Egyptian bread.
8. Le Panier
The 'basket' of Marseille. The narrow windy streets of the panier have some great shops and cafes and offer a very authentic Marseille experience.
9. Palais Longchamp
Take a walk around the Palace and the grounds. Check out the lively bar 'Palace Longchamp' just further down the hill and stop off for a very modestly priced glass of wine.
Click here for the exact address of the bar Palace Longchamp
10. The Corniche
The long stretch of coastal road has been recently renovated and now includes a fantastic cycle lane. Stop off for an ice cream at 'le glacier de la corniche' and make the difficult choice between their amazing flavours. The small port of Vallon des Auffes is well worth a visit particularly at sunset.
click here for the exact address of 'le glacier de la corniche'